Eskalay Vitamin C Cream



This light formula is rapidly absorbed into your skin. It increases the level of Vitamin C stored in your skin. Stress and prolonged sun exposure depletes the Vitamin C levels in your skin, causing photo damage and premature againg of your skin. Human skin cells repair and heal faster in a Vitamin C rich environment. There is evidence which suggests topical Vitamin C is benificial in the healing and repairing process associated with glycolic acid, Retin-A and Renova skin treatments. It is highly recommended as an adjunct therapy.

* Diminishes the visible signs of fine lines and surface wrinkles.

* Intervenes against future sun damage and regular use may prevent aging of your skin.

* Assists in the healing process of bruises.

Vitamin C Cream also contains vitamin E and liposomes to help penetrate into your skin. This cream helps your skin regain its elasticity and strarts collagen reproduction in your system. PLEASE KEEP REFRIGERATED.


Item Code:

1000


Price:

$65.00


Availablity:

In Stock! Usually Ships Within 48 Hours.



<< Back to All Products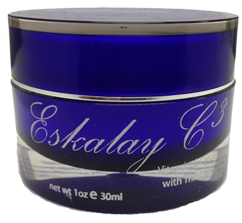 For More Information
Simi Valley Office:
1633 Erringer Road, Suite 201
Simi Valley, CA 93065
Phone: (805) 583-8888
Fax: (805) 583-0705

Hours:
Monday 1:00am-6:00pm
Tuesday 7:30am-6:00pm
Wednesday 2:00pm-6:00pm
Friday 8:30am-12:00pm
Saturday 7:30am-11:30am

Westlake Office:
1240 S. Westlake Blvd., Suite 129
Westlake Village, CA 91361
Phone: (805) 496-7888
Fax: (805) 496-7699

Hours:
Wednesday 8:00am-11:00am


Contact Us Online