<< Back to All Services
Photodynamic Therapy (Blue Light)
Photodynamic therapy (PDT), commonly known as Blue light therapy, uses non-UV light to eliminate acne-causing bacteria deep within the skin. The result: clear, smooth skin with fewer blemishes, clogged pores, pimples and acne breakouts.





What is blue light therapy?


Dermatologists have used blue light in their offices since 2002 to clear acne breakouts quickly and effectively by eliminating the bacteria that cause them. Blue light treatment is a non-UV light therapy, which is gentle on skin and does not cause long-term harmful health effects.



How does Blue Light work?


Blue Light treats the very source of acne—bacteria (P. acnes) living in the pores. When blue light strikes the acne bacteria cells it kills them, without affecting the surrounding tissue. And when you eliminate acne-causing bacteria, you eliminate clogged pores, blemishes, pimples and breakouts to reveal clearer, smoother, healthier skin.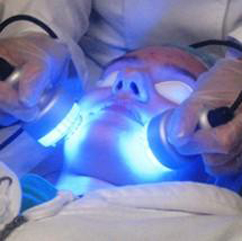 Close up of doctor's hands administering Photodynamic Therapy (Blue Light). This procedure is commonly used to treat acne and other blemishes of the skin.
For More Information
Simi Valley Office:
1633 Erringer Road, Suite 201
Simi Valley, CA 93065
Phone: (805) 583-8888
Fax: (805) 583-0705

Hours:
Monday 1:00am-6:00pm
Tuesday 7:30am-6:00pm
Wednesday 2:00pm-6:00pm
Friday 8:30am-12:00pm
Saturday 7:30am-11:30am

Westlake Office:
1240 S. Westlake Blvd., Suite 129
Westlake Village, CA 91361
Phone: (805) 496-7888
Fax: (805) 496-7699

Hours:
Wednesday 8:00am-11:00am


Contact Us Online