<< Back to All Services
Restylane
Restylane is a dermal filler consisting of hyaluronic acid, which is found naturally in the body. It helps to fill in the lines on your face. It is probably the most widely used filler in the world at the present time.



Restylane yields longer-lasting results than collagen which was the gold standard for 20 years. Collagen lasts 3 months and requires two test doses spaced a month apart first. Restylane lasts up to six months. You can see the results before leaving the office.

To learn more about Restylane, please vist the official website at: www.restylane.com.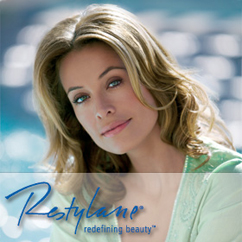 Restylane is the trade name for a range of injectable fillers with a specific formulation of non-animal sourced hyaluronic acid (HA). Restylane was the first stabilized hyaluronic acid filler on the market and reportedly has been used in over 11 million treatments worldwide (2010).
For More Information
Simi Valley Office:
1633 Erringer Road, Suite 201
Simi Valley, CA 93065
Phone: (805) 583-8888
Fax: (805) 583-0705

Hours:
Monday 1:00am-6:00pm
Tuesday 7:30am-6:00pm
Wednesday 2:00pm-6:00pm
Friday 8:30am-12:00pm
Saturday 7:30am-11:30am

Westlake Office:
1240 S. Westlake Blvd., Suite 129
Westlake Village, CA 91361
Phone: (805) 496-7888
Fax: (805) 496-7699

Hours:
Wednesday 8:00am-11:00am


Contact Us Online