<< Back to All Services
Botox
Botox is a purified protein form of the botulism toxin and is approved by the FDA. It was originally used in medicine for decades for treating eye problems and reduce and soften moderate to severe frown lines. It is usually used between the brows as well as crow's feet (on the sides of the eyes), as well as, the forehead lines.



No anesthesia is required. The procedure takes about 10 minutes. It relaxes the muscles and does so for 3 months. When you return in 3 months you can have more Botox to sustain your results. You can expect to see results in days maximizing at 7 to 10 days. You may return to work immediately.

To learn more about Botox, please vist the official website at: www.botox.com.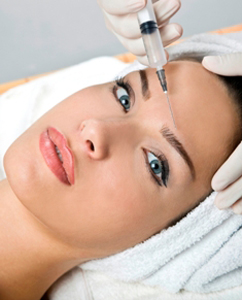 Close up of Botox being introduced into the patient. Botox can also be used in a variety of areas on the face, including: forehead, eyes, cheeks, and more.
For More Information
Simi Valley Office:
1633 Erringer Road, Suite 201
Simi Valley, CA 93065
Phone: (805) 583-8888
Fax: (805) 583-0705

Hours:
Monday 1:00am-6:00pm
Tuesday 7:30am-6:00pm
Wednesday 2:00pm-6:00pm
Friday 8:30am-12:00pm
Saturday 7:30am-11:30am

Westlake Office:
1240 S. Westlake Blvd., Suite 129
Westlake Village, CA 91361
Phone: (805) 496-7888
Fax: (805) 496-7699

Hours:
Wednesday 8:00am-11:00am


Contact Us Online