<< Back to All Services
Juvederm
Juvederm is a newer dermal filler consisting of hyaluronic acid similar to Restylane but with a slightly higher concentration. The syringe gives you a smaller amount of material in the syringe than Restylane.



JUVÉDERM® XC is the smooth gel filler that your doctor uses to instantly smooth away wrinkles around your mouth and nose. With just one treatment, you'll get smooth and natural-looking results that last up to a year.

JUVÉDERM® XC is manufactured using HYLACROSS™ technology, creating a smooth-consistency gel. It is infused with lidocaine to improve comfort during treatment. With JUVÉDERM® XC you get the smooth results you expect, with the improved comfort you want.

To learn more about Radiesse, please vist the official website at: www.juvedermusa.com.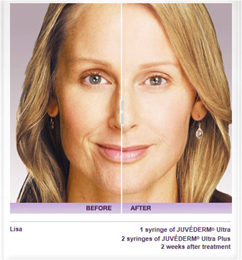 Now you can get something extra with your JUVÉDERM® XC treatment. Extra value. Ongoing benefits. Only with JUVÉDERM® XC.
For More Information
Simi Valley Office:
1633 Erringer Road, Suite 201
Simi Valley, CA 93065
Phone: (805) 583-8888
Fax: (805) 583-0705

Hours:
Monday 1:00am-6:00pm
Tuesday 7:30am-6:00pm
Wednesday 2:00pm-6:00pm
Friday 8:30am-12:00pm
Saturday 7:30am-11:30am

Westlake Office:
1240 S. Westlake Blvd., Suite 129
Westlake Village, CA 91361
Phone: (805) 496-7888
Fax: (805) 496-7699

Hours:
Wednesday 8:00am-11:00am


Contact Us Online